Jordan is a  perfect 'first-time" Middle East experience! If Jordan hasn't come up your travel radar yet, read our 5 reasons why Jordan should be on your bucket list for 2019!
1. Find peace and quiet in the desert
If you are looking for a real get-away,  to unwind and experience something new: the Wadi Rum desert is your place to be! This desert is known for the mars-like setting and was the film location for a couple of movies;
the new Aladdin movie coming out in 2019

Rogue one Star Wars

The Martian, Red Planet

Mission to Mars

and more!
Some people come here after a divorce or after they've had a bad setback in life and stay in the dessert for a while to reflect. And if you after want to write a book, this seems like a good place to start writing! Also, there is no Wifi or service in the desert 🙂
#Digitaldetox
2. Discover how friendly the Jordanians are

Before this trip, people told me about the friendliness of the Jordanians. But of course it's not until you experience it yourself that you can truly understand it. They'll invite you for tea, are very helpful even if it doesn't benefit themselves taka don't want to try and sell you something) and they love to welcome you to their country! One of the most asked questions is "Where are you from?" This is not the start of a sales trick, they are just interested to know :). And also, there are a lot of friendly cats running around (especially at Petra). They will come and run up to you, almost like they are greating an old friend :).
#Kindness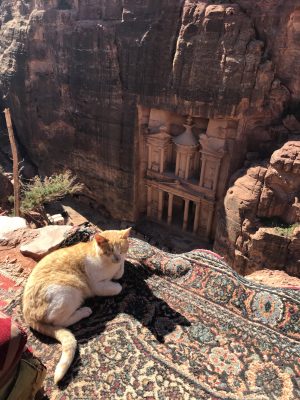 3. See Petra, one of the World Wonders
I don't want to start with the cliché, but of course Petra is THE highlight. However when people think of Petra, they think of The Treasury. That is probably the most photographed site of this ancient city and it's gorgeous, but there is a lot more to see besides The Treasury. We suggest to put your hiking boots on for a day and explore the ancient city to the fullest. Don't hike with a purpose to tick all of the sites as a checklist, but wander around and enjoy the surroundings. We stayed two days in Petra, one seems way to short for us, so 2 was perfect!
#Visitpetra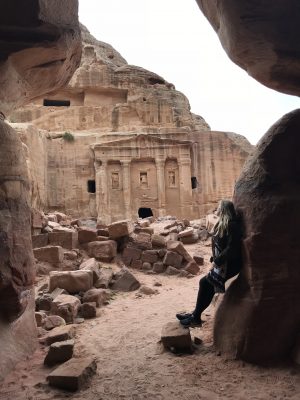 4.  Get a soft skin at the dead sea
We saved this one as the last part of our trip. We booked the Mövenpick resort that was luckily of season and pampered ourselves. It was very strange to experience a dip in the Dead Sea, the water has such a weird feeling but it makes your skin super soft!  At the resort they provided the mud to treat our skin with a mud bath. First put mud all over yourself and then float in the Dead Sea, as simple as that 🙂
#Spatreatment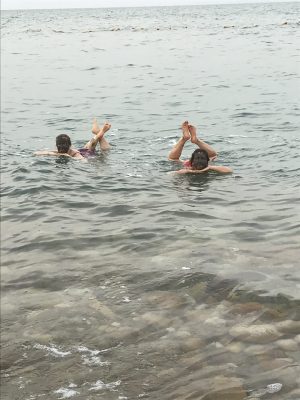 5. Eat their epic food!
I'm -a big hummus fan, so Middle Eastern food is heaven for me. The capital Amman has the most to offer food wise, so I wished I could stay there a bit longer. We've only scratched the surface when it came to food, so I can't wait to go back and eat more :). To learn more about food, I can refer you to the blog of  migrationology. Make sure you try the Tea and Coffee that you can find anywhere. The coffee is a Turkish coffee with Cardamom, delicious! But don't drink the full cup till the end, it's unfiltered coffee so the last bit is finely ground coffee. In Turkey they use that last bit of coffee to predict your future! But I haven't seen anyone do that in Jordan.
#Foodies