Rotterdam, The Netherlands
Why Rotterdam?
City tripping is always a good idea! Rotterdam has many architectural delight, is a heaven for foodies and a must do for art and culture lovers. And one of my friends was doing an internship in Rotterdam, one more reason to go and meet up with the girls!
Where to sleep?
King Kong Hostel
We stayed in the famous hostel King Kong, this hostel received an award for its concept & its interior design. Like every hotspot nowadays it has its own barista, an old school gym, a rooftop garden, 24/7 Netflix, popcorn,… And on top of that, it lies in the heart of the city! The "Witte de Withstraat" is known as the Cool District, one of the most trending areas in Rotterdam with hip bars, clubs and restaurants. If you want to explore the local nightlife, you don't even have to leave the street (this was quite convenient :-)). Besides, the "Witte de Withstraat" is packed with art- galleries, hidden gems and the shopping area is only a 3-minute walk…

Address: Witte de Withstraat 74, Rotterdam
Price: starts at 25,50€ pp,  breakfast 7,50€
HNY
If you prefer a bit more upper-class, I would recommend Hotel New York at Wilhelmina Island. This hotel has it all: an iconic building, the former headquarters of holland America Line, a terrace with a view, a vintage interior but with modern rooms, a restaurant, a kiosk and even an old school American barber shop. For more info & pictures read …

Address: Koninginnenhoofd 1, Rotterdam
Price: starts at 105,50€ per room, breakfast 17,50€
Where to eat?
Plenty of choice in cool bars, restaurants and cafés in Rotterdam. Like having a biologic lunch at  Op het dak, a tiny biological rooftop restaurant. Or having drinks on one of the terraces of Biergarten, Annabel and BAR. We discovered Bas Bakt , a fresh bakery which only opened one week before. Bas himself (and his dog) makes you feel very welcome to taste & buy his delicious bread, freshly squeezed juices, homemade granola and nougat,…  We've treated ourself and our loved ones

By the way, it's also recommended to pay a visit to the neighbors of King Kong: Cafe de Witte Aap, a must since it was awarded best bar of the World by Lonely Planet. On the other side you find hamburger place  Ter Marsch and Co, they won the award of best Burger Bar of Rotterdam '15. Off course we had to try one of the burgers, this was the ideal hangover food after Friday eve!
An excellent place for dinner & dinner is Dertien,  a quirky restaurant that works exclusively with local products and therefore have the freedom to regular change the menu.  All the dishes are shown on a huge letter board above the kitchen, a real eye catcher in the interior. We also tried Thoms, a rather new hotspot and one of the latest masterpieces of renowned architect Rem Koolhaas.  A really nice setting to enjoy a delicious lunch, dinner or drinks in the underground bar.
Where to Shop?
Another nice area to visit is the district 'Old North'. Rondom het Zwaanshals are several interesting small design shops and off course some more bars and cafés. You should definitely try some pies and other sweet pastry at Lof der Zoetheid. More towards the city center you can discover Luchtsingel, a yellow wooden pedestrian bridge which enabled the entire neighbourhood to revive.

Speaking about hotspots, one of Rotterdam's highlights is definitely the Markthal, the first covered food hall in the Netherlands. Sure you'll find something tasty at one of the 96 stands which sell super fresh products. I you prefer to mingle with the locals, go to the Fenix Food Factory, a more alternative market on Katendrecht, the Dutch meet their friends for a brunch or some beers. Around the corner of the Markthal you can find the Pannekoekstraat with some small boutiques. De Meent is also quite nice for some shopping. Definitely worth a visit is GROOS, a cool concept store with only local Rotterdam design on display!
How to get there from Belgium?
By car:
It will take you about 2 hours from Brussels. The downside: as in many big cities public parking is rather expensive.
By train:
The most convenient option is to go by train, by Thalys or Intercity.  The Rotterdam Central Station (CS) 'an sich' is worth a visit! It is an architectural sensation of stainless-steel and glass, which gives the building an iconic character and adds a metropolitan character  to the city.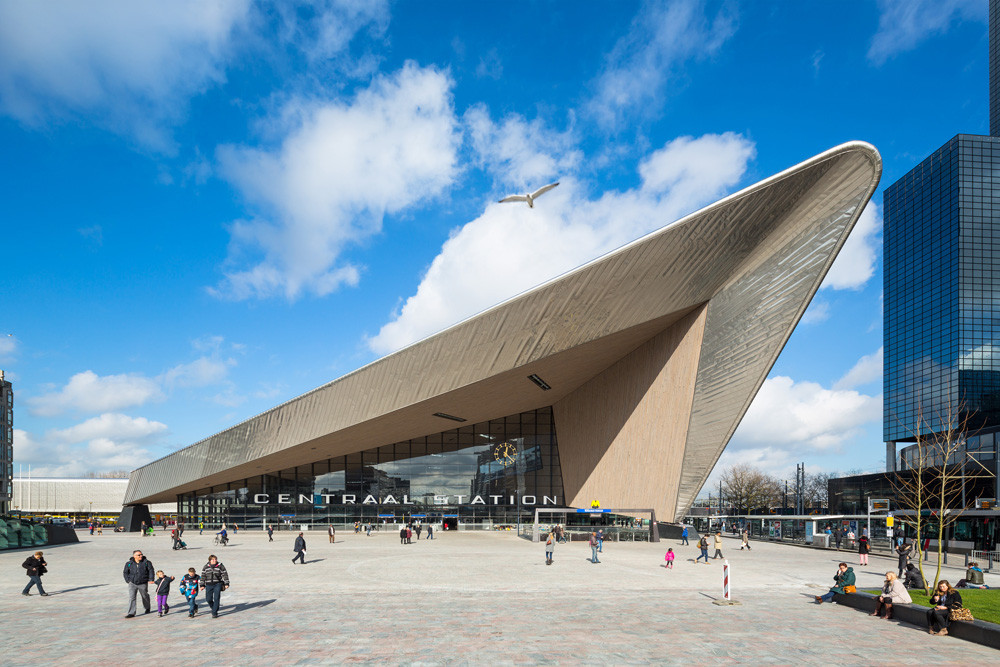 Info 
http://www.visitrotterdam.info
https://www.facebook.com/rotterday/