We love biking, it's an excellent way to explore a city. You get to see lots, your feet don't hurt at the end of the day and paddling around kind of makes you feel like a local. In our Antwerp by bike article, you could already notice our love for biking. Our city is 7th on the list of most bike-friendliest cities in the world! But Berlin is not far behind, at 10th place. A perfect reason to explore Berlin by bike too! You can go on an organized tour, or you can easily go by yourself!
We rented some bikes at our hostel (10€ /11$ per day) and met up with our Berliner friend, to bike around the city. The easiest and most cultural bike ride, is to follow the Berlin wall route.
We started at Ernich-Weinert-Strasse, just because it was an easy point for us to meet up. You can choose where you start… This was our route:
1.Bösebrücke
Our first stop was the Bösebrücke or the Bornholmer Strasse border crossing. This used to be one of the border crossings between East and West Berlin. And played a historical part during the fall of the Berlin wall. Since it was the first border crossing to be opened, on the 9th of November 1989.
An outdoor museum shows pictures of the first ones crossing the border after the fall of the wall. You can read up on the crossing at the outdoor museum and a map will show you where the wall used to be.
Berlin Bösebrücke

Berlin Bösebrücke
2. Mauerpark
On Sundays, this place is a real treat! From vintage finds, to discovering local designers/start ups on the flee market. On sunny Sundays the park is very lively with young and old enjoying a drink in the surrounding. Street performers have their weekly show around the park and if you are feeling like giving a performance of your own, you can enter the karaoke show! It's a fun little stop, that I would highly recommend. Although, it's not a secret anymore and there will be a big crowd of people hanging around.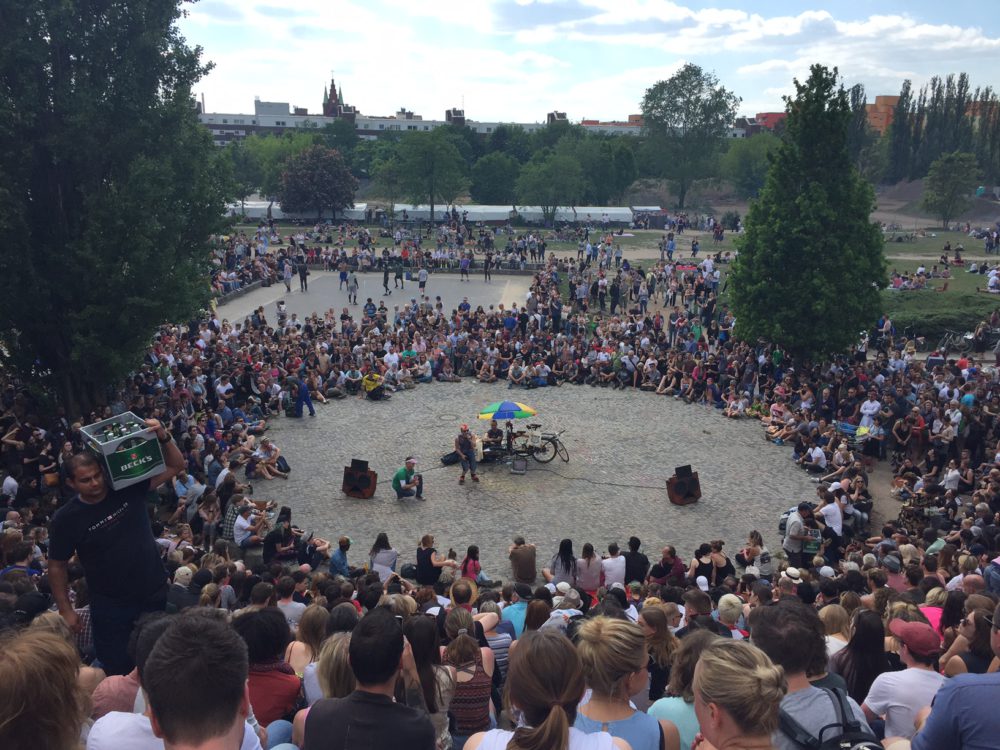 3. Berlin wall memorial
Where the watchtower used to be, is now an art piece, which I loved when standing in it and looking up. A bit further you can see the outlinings on the ground of where a church used to be. The church had to make way for the death strip and was completly taken down. Walk/bike a couple of meters and you will see how big that death strip actually was. It seemed scary and impossible to get across! Nevertheless there are people that tried to get across the death strip. Some succeeded, and others failed. Across the street you can read stories of those that tried, at the indoor free museum. Plus hear the stories of those that were in charge of the watchtower.
Berlin Watchtower

Berlin Watchtower
4. Regierungsviertel
The Government district, a.k.a the political centre of Germany. The cool part about this site is that the Spree river runs through this district. However, if you would look at this site from the sky, you would see that all the buildings are still aligned in one straight line. These modern buildings will be delight for modern architecture lovers. Register in advance if you want to visit the Reichstag dome and roof top.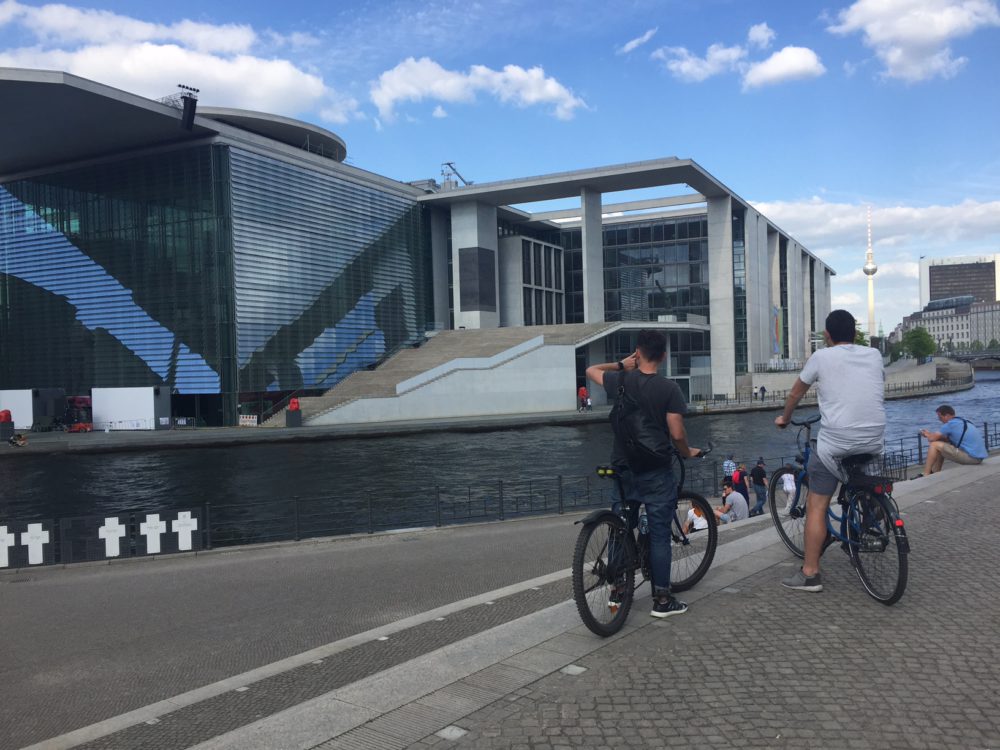 5. Brandenburg gate
One of the famous and historical sites of Berlin. This gate was the site in a lot of historical and political events. It now represents the turbulent history of Europe and Germany.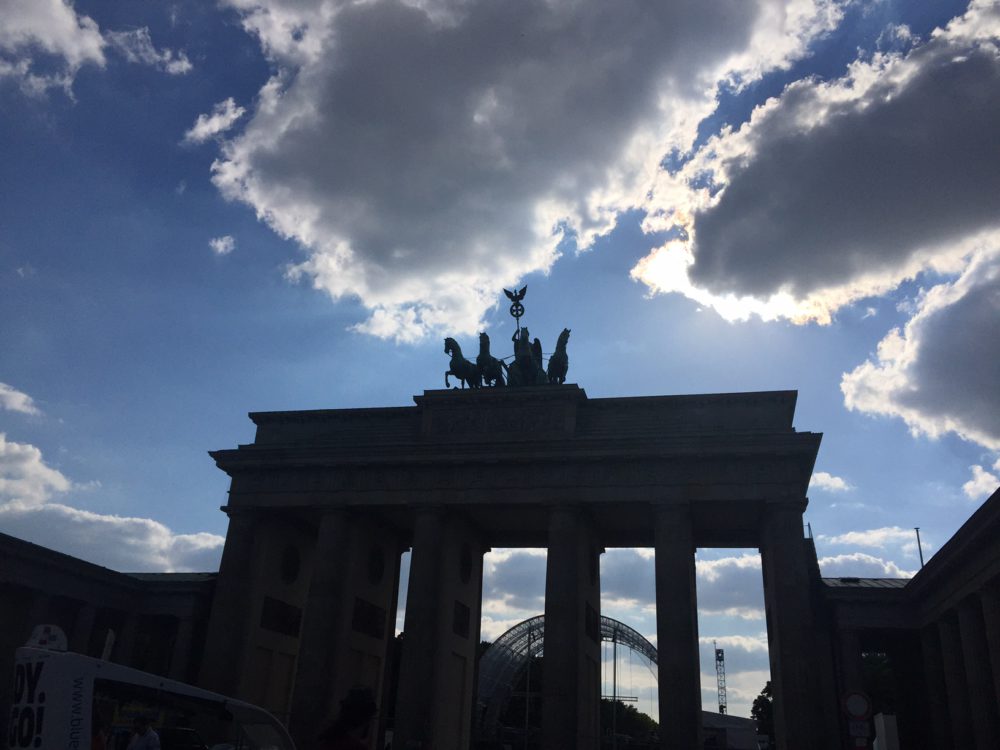 6. Holocaust memorial
This is one of the most impressive memorials I've ever seen, it really gets under your skin. 3 millions of Jewish lives were taken during the second World War. You find yourself walking around 19,000m² (4.7 acre) memorial, with a loss of words. Just taking it all in and thinking about the historical meaning behind the hundreds of concrete slabs, 2,711 to be exact.  It's something you must experience in Berlin.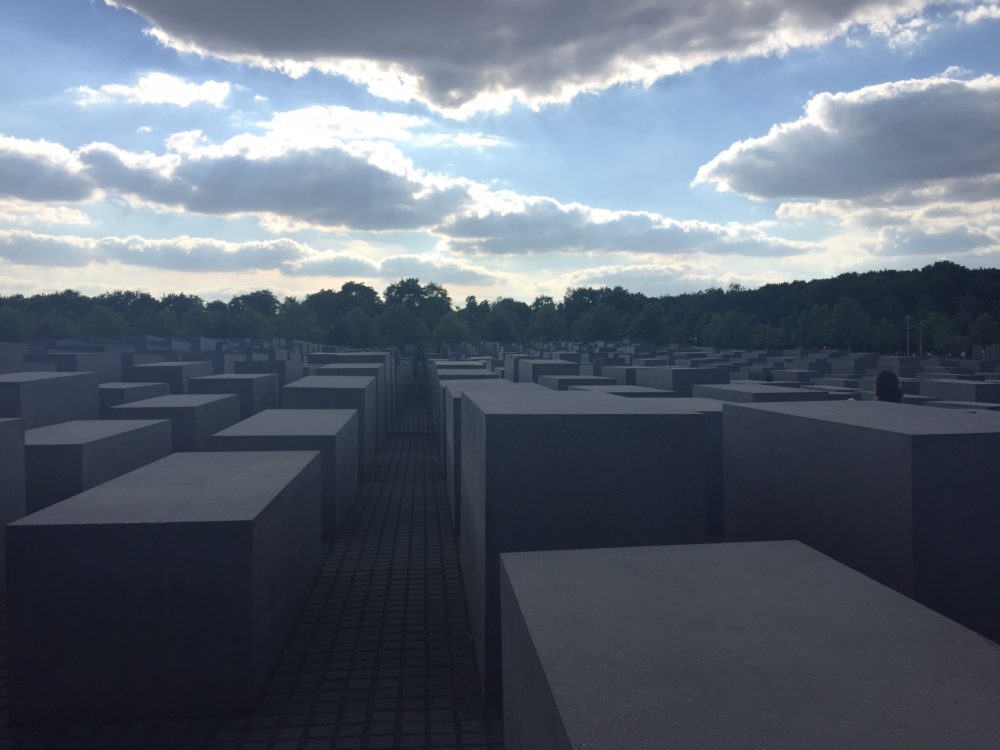 7. Check point Charlie
We ended our tour with another border crossing; checkpoint Charlie. It's the famous crossing point, that is now also a tourist attraction. Bring your passport and you can get a stamp at the Checkpoint!
8. East side gallery
We visited the East side gallery another time, so didn't include it in this bike trip. However, it's the perfect ending to the Berlin wall biking trail!
Where to rent bikes
Check your airbnb or hostel if they are renting any bikes.
We got ours, while we were staying at the Cat's pajamas hostel, for 10€ / 11$per day
Fat tire tours also offers bike rental as well as tours. It costs 14€/ 16$ to rent a bike for a day.
Bike tours in Berlin
Of course you can also choose to go on a guided bike tour. I haven't tried any in Berlin, but I have seen the Fat tire tours around. They have guided tours from 28€/32$ to 49€/56$.
Tips:
You are allowed to bring your bike on the train / S-bahn or U-Bahn. Just make sure it's not rush hour for your own convenience. It will also be marked in which parts you can take your bike on, with a big bike logo on the window
Movie to watch: Goodbye Lenin! A movie in German about a guy that is trying to prevent his mother from finding out that the Berlin wall has fallen. During the whole event she was in a coma and now that she is awake, she shouldn't be startled, in order to prevent another heart-attack. It's a movie with dark humor and gives you a good idea of life behind the wall.
You can find markings of the Berlin wall on the streets, this way you know that you are not lost 🙂
A special thanks to my friend Mario for showing us around in the city and being our personal tour guide!
Have fun exploring Berlin by bike!
Read more on Berlin in our Why you need to go now article!
BewarenBewaren