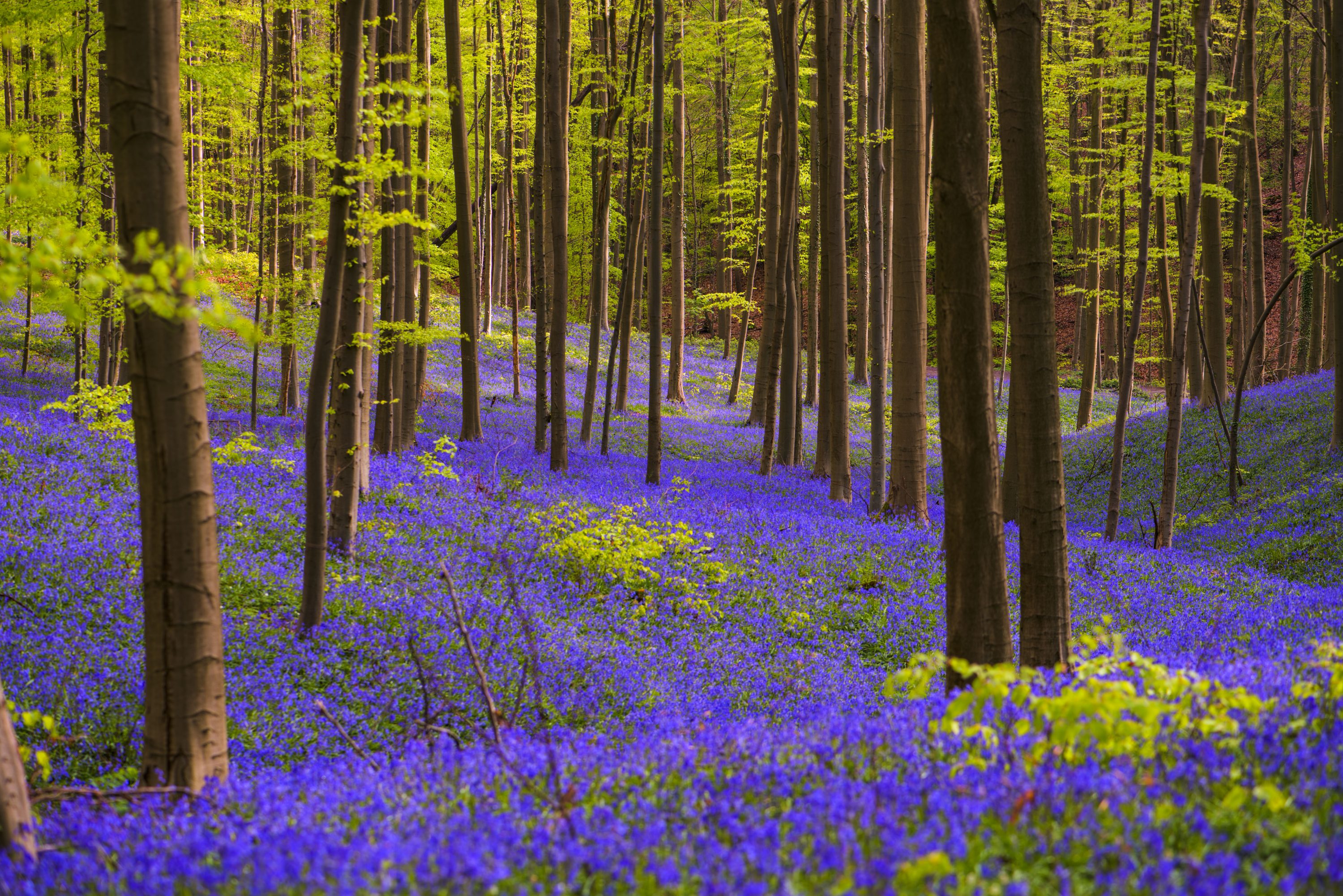 Now that you already know why to visit Jordan, see our latest article; 5 reasons to visit Jordan . You might be wondering, yeah all cool and that but what do I need to budget for such a trip?! And the answer is; you can do it all fairly priced. Here is a break-out of my costs to give you a better idea!
Where were we?
Amman – Petra – Wadi Rum – Dead Sea
Number of days
5 days
Good to know;
We went off season: Wednesday 12 – Sunday 16th of December (4 nights stay)
There were 2 of us on this trip, therefor we could share certain costs
Everything can be adapted to your preference; less budget or more luxury
To give you the short answer, our trip was 643,36€ per person, including a parking fine!
All prices mentioned in the details, is the price per person (calculated with a trip for 2)
To get into details;
Transport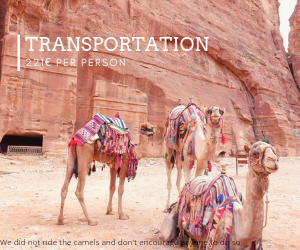 Includes;
Train from Antwerp station to the Airport – 11€
A return flight from Brussels (Zaventem) to Amman – booked with Ryanair. We had a great deal to get tickets for 87,87€ return, with the added luggage.
Car rental with Sixt car. Pick-up at the airport, from arrival to departure – 70,5€
Gas – 2 trips to the gas station! – 33€
Parking fine – we were unlucky and parked as the locals had done, which turned out not to be a legal way of parking! – 15,5€
Airport parking Zaventem (pick-up) – Our flight got delayed, which caused my boyfriend to be stuck at the airport waiting for us, that added a 4 euro p.p. parking cost to our trip 😉 I said it was going to be a detailed summary of our costs! – 4€
Total cost of 221€ per person
Food & Drinks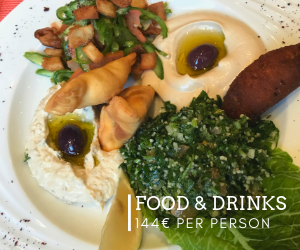 From a coffee at the airport, a small meal at one of the finer places in Amman to Grocery shopping for car snacks and lunches/dinners at the Movenpick. We didn't really have fixed price class for our food. We loved our coffee shops at the local shack (2,5€), but also enjoyed lunches at finer places (17€). However to be honest, our lunches were mostly very late and ended up being our dinner as well. While running around in Petra, being mesmerized by the dessert in Wadi Rum we ended up eating late and splurging a bit on lunch. If you are on a budget, you can for sure eat cheaper. And if you are set on your full meals each day, you will be spending a bit more.
Total cost of 144€ per person
Culture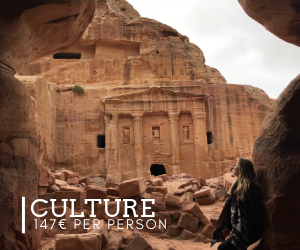 This category only includes 3 things;
Jordan pas – Visa + 2 day entrance to Petra – Wadi Rum entrance – access to all museums. Definitely worth getting the Jordan pass! – 95€
Petra by night – A candle lit route guides you to the Treasury of Petra, a magnetic experience that you shouldn't miss on your trip. Make sure you plan your trip around it, it only happens on Monday's Wednesday's and Thursday's! – 21€
Wadi Rum – The Jordan pass covers the entrance fee, but Wadi Rum is huge and best way to see it is with a little jeep tour! – €62
Total cost of €147 per person
Accomodation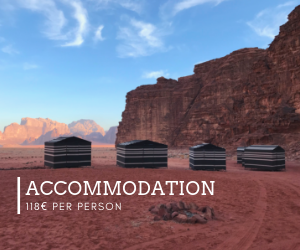 When the discussion of accomodation came along, we did a little give and take. We took a low cost accomodation for our 2 nights at Petra and stayed at the Rocky mountain Hotel (40€). This is more for the budget traveller. – 40€
For our stay at Wadi Rum, we were really thinking of staying at the mars looking bubbles! Nevertheless, it seemed a bit to romantic and a place we would rather stay with our boyfriends, that's why we opted for one of the normal stays; Arabian nights. This was a very basic stay! But the people were super nice and the atmosphere was priceless! The place was run by a few young Bedouins, that loved playing card games and talking around the fire pit. It was a very pleasant to spend time with locals as well as hearing the stories of the other travelers. Something that you won't get in a luxury stay. A meteor shower was predicted for that night and they were nice enough to set a little bed up outside so we were cosy and warm while gazing to the millions of stars above. We saw plenty of falling stars and gazing at the stars in the middle of the dessert was a special experience.
25€ for our night stay
After a night in the dessert, where the showers didn't seem to appealing to us and by the sound of it were very cold, we were happy to really spoil ourselves and stay at the Movenpick resort at the dead sea! It looked like, in order to have a nice access to the dead sea, you should stay in one of the resorts. Besides a resort, there wasn't much around to do. But we were happy with our grand room, dip in the dead sea WITH mud treatment and hot shower! Because it was off season, the resort wasn't crowded and the prices were reasonable; €53 p.p. (one bedroom / twin beds).
Total costs of 118€
Other
The 17€ other costs was a small gift, a pharmacy visit and a currency exchange rate when withdrawing money.
So, if planned well and when you are flexible with time; you can plan a fairly priced trip to Jordan, without giving up to much of your luxury!